7th Generation Advisors is working in partnership with groups and organizations on the ZeroWaste India Initiative: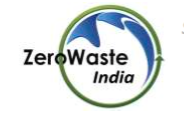 ZeroWaste India ("ZWI") will build five waste conversion facilities in the state of Gujarat to convert 1,500 tons/day of municipal solid waste ("MSW") to high value commodities, including compressed biogas, organic compost, liquid fertilizer, compressed industrial CO2, Refuse Derived Fuel (RDF), and recyclables.
ZWI will use proven 'off-the-shelf' technologies: mechanical and manual sorting; anaerobic digestion composting; gas cylinder compression & distribution.
ZWI has fully developed the first two sites & secured feedstock and necessary permits. These plants are ready to build pending financing.
Considerable upside potential with conversion of recyclables to added-value products.
The Opportunity:

Opportunity to invest in two 'shovel ready', fully contracted MSW conversion plants in India
Attractive project level returns (20%+, unlevered) with exceptional sustainability benefits to local communities
Experienced local development team supported by world leading suppliers and advisors
$15MM capex per project, total raise of $75MM allocated for 5 projects
EBITDA: US$ 4MM per plant ($20MM across platform)
Partners:
7th Generation Advisors
CNM Energy Solutions
Rusheen Capital Management
KIS Group
Compost Systems
Komptech
R20 Regions of Climate Action
United Nations Industrial Development Organization
For details and more information please download our summary presentation: