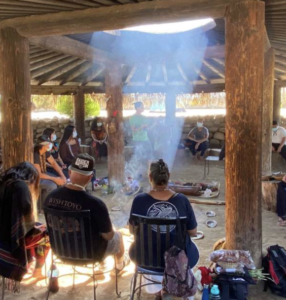 SGA is honored to have a longstanding history working with First Nations and Indigenous groups. Some our current engagement includes the following:
SGA engages with the Wishtoyo Chumash Foundation in its efforts to protect, restore, and communicate Native American cultural heritage in California and beyond.
Our team serves on boards and advisory committees for Wishtoyo, helping them build the Chumash Village and protect their ancient tribal rights on the Utom River.
SGA also works closely with the Black Mesa Trust of the Hopi people who are fighting to restore and protect their water sources.
SGA serves as the home to the UTOM River Donor Advised Fund (DAF). This donor-advised fund was established with settlement money from actions to protect the Utom River (Santa Clara River in Ventura County) on behalf of plaintiffs Wishtoyo Foundation, Santa Ynez Band of Chumash Indians, California Native Plant Society, and the Center for Biological Diversity.

7GA assists these groups in identifying threats to the river, opportunities to restore and protect it, and cultural values/assets along the river in need of conservation.
We also manage the fund's investments to maximize sustainable growth to ensure long-term funding for its environmental and cultural goals.