We envision a reality where by 2030 the framework is in place to create a sustainable world seven generations into the future.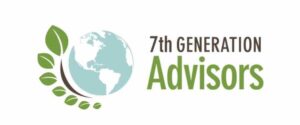 7th Generation Advisors empowers individuals and organizations to create and adopt solutions that protect our environment and fight climate change, based on the ancient First Nations philosophy that the decisions we make today should result in a sustainable world seven generations into the future.

We recognize the link between climate, conservation and the health and well-being of all living things and we strive to initiate, support and implement projects that support this interconnection. We have cultivated deep partnerships in diverse issue areas that enables us to work at this intersection. We are force multipliers – by coordinating and supporting our partners and stakeholders we can have an outsized impact.
---
---
There is so much work to do to heal our planet that it can feel overwhelming to determine where to start. That's why we launched the Personal Climate Action Center, an initiative designed to encourage people to take individual action against climate change. Each week we provide one action item for you to take to reduce your carbon emissions. Along with this weekly tip you will find over 80 actions on the Personal Climate Action Center website, where you can sign up and pledge to TAKE ACTION! And if you have already signed up you can log the actions you are taking each week by clicking here.
---
---
Subscribe to our Newsletter!
Sign up with your email address to receive news and updates.